28 Aug

How to Utilise Online Classes Effectively

Online classes are the reality of every student's life for a couple of years. However, students were finding it difficult to blend in with this new way of studying. Even those preparing for the competitive exams, such as the GATE coaching online, reported a lack of concentration.

There are many coaching institute that provide online classes for the GATE and other competitive examinations. But always it is very important to choose the best one wisely. In this article we will discuss the professional's advice or key tips to crack gate exams for students which will help students in choosing the best Gate coaching online to prepare for their GATE exams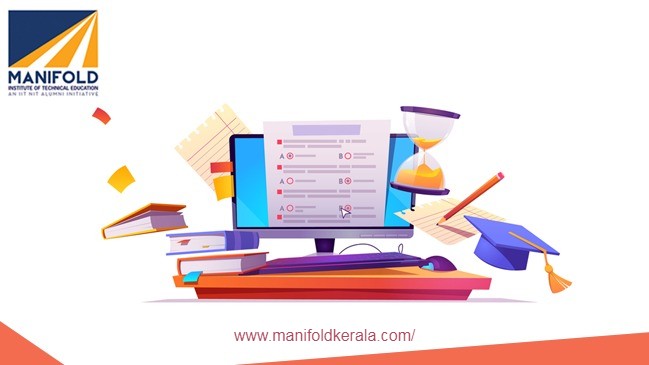 Course Structure
Before choosing any online platform you must know about the course the institution is offering and syllabus of GATE and other competitive exams they are provided with.  All the coaching institute have their own syllabus designed according to the course. So always check the course structure offered make sure it is beneficial for you in one way or the other.
These are some important points to check before registering online courses
Course design by the coaching institute
Does it provide only classes or test series?
Does it provide more practice questions?
Are there doubt clearing sessions?
How long will the video be valid?
Does it have flexibility?
Do they provide study materials?
Seek interaction with peers
Group study is impactful. Yet, online classes have left us as strangers trying to acquire knowledge together. You can try interacting with your classmates and form a study group. The group shall help you prepare better, along with the GATE online coaching classes.
Know your faculties
It is equally important to have a good faculties / tutors in any coaching institute to promote a good education. A good faculty can very well understand the student abilities and teaches well on subjects according to the requirement. This will help you in understanding the topics and clearing your doubts. With us, you can avail highly qualified Gate Tutors to guide you in the right path.
Create a Plan or Goal for yourself
Time Table is the smartest way to achieve all your goals. The same holds true when you are preparing with GATE coaching online classes. Prepare a daily schedule of how much to study and complete it on time. It will ensure that you are on pace with the preparation, and you can also clear your doubts simultaneously.
Manage your time
Make sure that you manage your time well in between your online classes and do not get distracted. When online classes are available digitally, many students try to manipulate those classes. Do not let that happen. When you make a plan for your studies, make sure that you manage your time well, by taking care that you complete the video lecture on time and also supplement the lecture with study material.
If you are preparing for any competitive exams like Gate, Importance of time management in Gate exam is so crucial. First understand the topic that you are going to study and then watch the lecture provided by Gate Tutors. And if you cannot understand any particular topic from the video lectures as well as interaction with the tutors without wasting time will be of great help.
Change for good
You have surely found your suitable time, and learning is taking place in full swing. Some students prefer learning early in the morning, while others are night owls. You can also examine your productive time and begin learning. The change in study timings shall help you grasp more in less time.
However, after some time, the repetitiveness may become boring. If you lack concentration, there is no harm in altering the schedule a bit so that you feel afresh and begin with zeal.
Make Notes
Notes are an ultimate necessity even when attending regular classes. During GATE coaching online classes, these become crucial. The biggest advantage of taking notes during online courses is that they grasp your attention and prevent you from wandering. Also, it is a known fact that writing down helps the brain to grab the concept better. Additionally, you will have a quick reference during the last hours of the examination.
Always attend the doubt clearing sessions
Sometimes we underestimate the doubt clearing sessions. These are mostly skipped, but students must know that these sessions can be crucial. The first benefit is that you shall get a revision as other students ask questions. Even if you haven't prepared a portion. Thus have nothing to ask. Somebody else's questions may help you learn better. Also, it is always advisable to clear the doubts simultaneously along with the preparation.
Choose the best Online Class
 Being a digital era, almost all institutions are paving way for Online classes it is extremely important that you choose the best online classes which are available. Whether you are Gate aspirant or preparing for any other competitive exams, always choose the best online classes by which you can benefit the best of your studies like:
The time period from which the coaching is in the market.
The team of good faculties and their availability
Video quality and other services provided by online classes.
The niche of the online classes.
Previous year results.
 Conclusion
Learning has become much easier through many online courses. Enjoy the best GATE coaching online classes without no worries and do keep in mind  it's  the  students' diligence and better planning that help them  prepare well  in exams and acquire their desired scores.
Kick start your preparation.
Gate 2023 Online Class Admissions Started. Enrol with us now.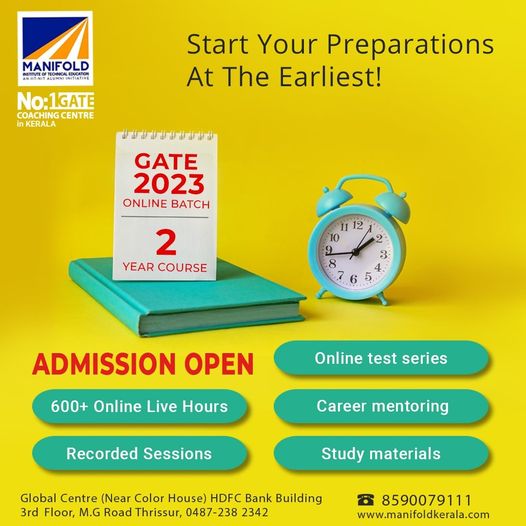 For Registrations, Visit – https://www.manifoldkerala.com/gate-online-coaching-center-kerala/
or Call us – +91 8590 079 111